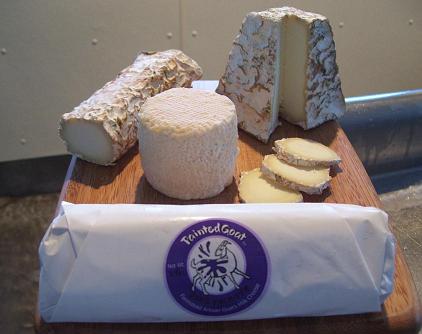 Where to find our cheese
Purple Logo| About Us| Calendar of Events| In the News
TO SEE WHERE TO PURCHASE OUR PRODUCTS, BROWSE THESE LISTINGS OR JUMP STRAIGHT TO THE MAP BELOW.
FARMERS' MARKETS:
Cooperstown Farmers' Market
EVERY SATURDAY: March through April, 10am to 2pm
May through August, 8am to 2pm
September through December, 9am to 2pm
Schenectady Greenmarket
Every other SUNDAY: May through October outdoors at City Hall, 10am to 2pm
November, December, and March through April inside Proctors Theater, 10am to 2pm

And also found at
Hastings-on-Hudson Farmers' Market: Saturdays March-November
Union Square NYC Greenmarket
: every other Monday April-October
Fort Greene NYC Greenmarket
: every other Saturday April-October
CSA's (Community Supported Agriculture):
Cheese pick-up every other week for a total of 12 deliveries. Cheeses include fresh and aged goat cheese - a variety of the styles and flavors that we make.
SINGLE SHARE: 13 cheeses, approximately 6 lbs. of cheese, $125.00
2017 at Rye CSA. Contact me about joining up with your existing vegetable CSA pickup time.

Fine Restaurants and cafes:
Otesaga Resort Hotel
, Cooperstown, NY
Origins Cafe at Carefree Gardens
, Cooperstown, NY
Rose and Kettle
, Cherry Valley, NY
Cheese and Specialty Food Stores:
Cooperstown Natural Foods, Cooperstown, NY
Green Earth, Oneonta, NY

Jewett's Cheese House, Earlville, NY

Lucky Dog Farm Store, Hamden, NY
Good Cheap Food, Delhi, NY
Last Chance Cheese, Tannersville, NY

Honest Weight Food Co-op, Albany, NY

Sunflower Natural Foods, Woodstock and Rhinebeck, NY
Bedford Cheese Shop, New York, NY

Lexington Food Co-op, Buffalo, NY

Wholesale and Mail Order
Retail businesses, restaurants, caterers, please call me at 607-321-3191 or email me at ilyssa@paintedgoat.com for a product list.
We ship cheese in insulated boxes via UPS or FedEx GROUND. Shipping costs additional.
View
Where to buy our cheese
in a larger map or
Return to
List of Locations
at the top of the page.